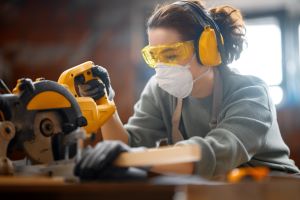 In Egypt and Babylon, craftsmanship training was organized to maintain an adequate number of skilled trades. The 18th century BCE Code of Hammurabi of Babylon required craftsmen to teach their skills to the next generation. And U.S. construction industry skilled trades have a long tradition; George Washington was an apprentice land surveyor.
As the workforce continues to reinvent itself, there has never been a better moment to start bridging the awareness gap between Gen-Z and a rewarding career in the skilled trades. –Mark C. Perna
Even though skilled trades are changing rapidly with technological advances, young people continue to have obsolete ideas about skilled trades careers. A StanleyBlack&Decker survey revealed one-fourth of high school students believe skilled trades don't use cutting-edge technology. The knowledge gaps revealed by the survey suggest many young people, their parents, and school career counselors don't know the benefits of skilled trade careers. For example, the total cost of a trade school education averages the cost of one year's tuition in a 4-year undergraduate program.
Here are 4 strategies to promote skilled trades careers in construction by overcoming perceptions:
1. Accessibility perception: Skilled trades involve difficult, manual labor.
Reality: Most students are concerned about their inability to master the necessary skills.
Strategy: Create opportunities for students to discover that physical work can be rewarding. Allow them to experience "getting their hands dirty" before deciding against a skilled trade career path.
2. Exposure perception: School career counseling will give students what they need to know about skilled trades.
Reality: About 37% of students have never spoken with a counselor or skilled tradesperson at all.
Strategy: Employers can use print, social, and other media to influence career-planning Gen-Z students.
3. Financial stability perception: Skilled trades don't pay enough.
Reality: After 5 years, a trades school graduate is $140,000 ahead of a 4-year college student.
Strategy: Educate more students about the financial advantages of skilled trades pathways.
4. Gender equality perception: Skilled trades are better for men than women.
Reality: More than ever, women are finding fulfilling careers in skilled trades.
Strategy: Employers can increase awareness among students and their parents that young women are finding skilled trades a rewarding career choice using school college fairs, etc.
Developing assets is business-building for the future. Our marketing assets are eager to explain business-building today.