A lighter, sturdier and more wind-resistant roofing material is becoming increasingly popular among residential construction professionals and home improvement companies. Metal roofing, a style of roofing material made of lightweight but extremely durable steel or aluminum, is becoming more common in American construction and remodeling projects, according to an article at Remodeling.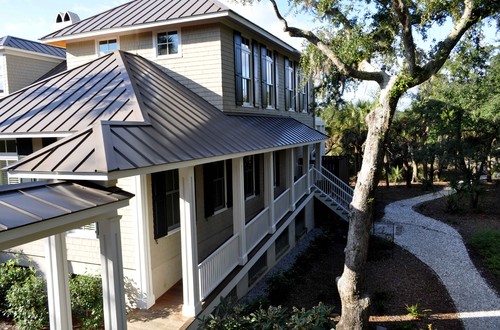 Traditional Exterior
by
Atlanta Architects & Building Designers
Frederick + Frederick Architects
Manufacturers and users of metal roofing, such as Miami-based Metal Master Roof Supply, are reporting high interest in the material, with increases in demand surging by 35 percent or more, the article noted.
The use of metal roofing is most common in southern states such as Florida, where high winds and hurricanes are more common. Metal roofing is revered for its ability to withstand high winds and protect homes during strong storms.
Homeowners often consider metal roofing so durable and long-lasting that they feel it's the last roof they'll ever have to install on their homes, said executive director of the Metal Roofing Alliance Tom Black.
Metal roofing derives its strength from the material it's made of, as well as from the method of installation. The standing seam panels are attached to the roof deck from top to bottom using strong hidden fasteners. This installation technique means that metal roofing panels are much less likely to be blown loose by the power of strong winds.
Overall, metal roofing offers benefits that tile roofing or asphalt shingles can't match. In addition to durability and strength, benefits include:
Low need for maintenance
Boosts to home energy efficiency
Improved visual appeal and resale value of homes
Color-matching to complement existing home colors
Environmentally-friendly recycled materials
As companies increase marketing efforts for metal roofing, industry professionals expect the demand for this material to increase even more.
Managers and business developers in the construction industry can rely on Construction Monitor for the most up-to-date building permit data for regions throughout the United States. Contact us today for more information on metal roofing and how this style of roofing is being used profitably and effectively in residential construction.