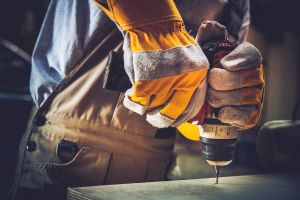 Construction firms are fighting for talent. The number of construction workers over the age of 55 has nearly doubled and we need to attract 546,000 additional workers this year. If you feel like you're waging a war for workers, it may be time to re-evaluate what employees want. Construction sales VP Jim Campbell of avidxchange.com says technology is key to construction recruiting and the place to start is the back office.
Technology & Construction Recruiting
Today's workforce is drawn to career development opportunities, and they believe that can happen at technologically savvy companies. If they see office personnel paper-chasing invoices with handwritten checks, you're not just wasting talent on mundane tasks. Modernizing the back office is one way to increase recruiting and retention.
Automating labor-intensive jobs allows employees to work faster and deliver better-quality results. But construction companies must implement technology strategically. Digital disruption can be avoided when employees gain the competencies needed to manage workplace technology integration.
Employee Experiences Drive Construction Recruiting
Winning the war for workers can give you competitive stability amid a shaky economy. Here are tips for attracting and retaining talent:
Emphasize diversity – D&I (diversity and inclusion) sensitivity gives contractors superior employer credentials.

Add virtual, work-at-home where feasible.
Offer childcare options.
Prioritize hiring women and minorities.

Give them more than money – Effective communication pathways are key to retention as is a more varied company package:

Continuing education
Family benefits
Flextime
Paid personal days/longer vacations
Paid volunteerism
Telecommuting

Make the move to cyberspace recruiting – "Meet them where they are," says business transformation pro Rita Trehan. This means online recruiting and mobile phone communications, social branding, and chats.
Offer flexibility – Changing traditional workweeks and work hours to individualize each employee experience appeals to construction project and office workers.
Rethink performance reviews – This archaic practice means less to this generation. Implement real-time feedback using coaching and mentoring techniques.
Technology increases growth opportunities for U.S. construction industry companies too. We sell our technology; digital information that has been customized to deliver what you need to know when you need it.
Call 435.586.1205 or contact Construction Monitor.