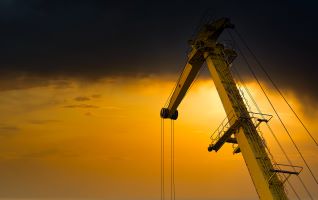 In March 2023, a construction crane fatality and a crane-related accident on an Amazon warehouse construction site occurred. An April 2023 settlement from a 2019 crane collapse awarded $860+ million to the family of a Dallas resident. The woman was killed when an apartment-site crane collapsed during a storm.
Those recent events intensified the construction industry's focus on crane safety protocols and protections.
Construction Crane Accident Statistics
About 44 people are killed in construction crane accidents every year in the U.S. When crane accidents occur, injuries can include:
Amputations
Brain trauma
Spinal cord damages
In the private construction sector, specialty trade contractors and civil construction workers suffered the most crane-related fatalities.
25% occurred on project sites.
24% occurred at a manufacturing facility/factory/plant.
8% occurred at road construction sites.
4 Types of Crane Accidents
When operating large construction equipment, much can go wrong. There are several causes of crane accidents and these are the 4 most common:
Collapse – Crane collapses often occur when working on rough, unstable, or icy surfaces. A crane collapse can also occur if the crane has been overloaded and/or has an unbalanced load.
Crane load falls and hits worker – A struck-by-load accident can happen anytime a load comes loose from the rigging or while a crane is being loaded and unloaded. A load can also fall and strike a worker when the crane tilts or turns.
Electrocution – Electrocution can occur when the boom or cable connects with an overhead power line.
Worker struck by a crane boom/jib – When dismantling the boom, the pins holding the sections together are removed. If the areas from which the pins were removed don't have adequate support, the boom can fall and strike workers.
5 Safeguards To Prevent Crane Accidents
When it comes to construction cranes, "There are no freak accidents," says OSHA. Construction crane accidents can be prevented. The Center for Construction Research and Training suggests:
Crane operators should be certified by a nationally accredited crane operator testing organization.
Employers should designate a trained and certified worker to inspect cranes after assembly, modification, and before every use.
Experienced workers should assemble, modify, and disassemble cranes. They should also be supervised by a construction crane safety-certified professional.
Reroute and close streets and pedestrian walkways when loads will pass overhead.
Riggers that signal and direct crane operators should also be tested and certified.
Make 2023 a flagship year for your company's safety record. If you have construction safety ideas, let us know. And if you're interested in making more money this year, contact Construction Monitor.