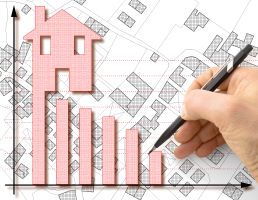 Single-family home remodeling is on a slight downward trend which you can expect to continue in 2024. The Leading Indicator of Remodeling Activity report predicts a 5.9% decrease (from $486 billion to $457 billion) in home renovation spending through 2Q24.
Work-from-home hit an all-time high in 2021, and remodels also soared "to an unprecedented height," says Forbes. In 2022, as we returned to pre-pandemic living, home investment spending stayed high.
A slowdown was due. We're seeing it now and the reduction in home improvement projects will likely continue throughout much of 2024. Contractors (and homeowners) should prioritize projects with higher returns.
Higher interest rates and economic uncertainties are yielding another prediction for 2024: lower-cost starter homes. But the anticipated 6% increase in affordable new-home construction "won't be enough," says House Digest. Many builders may scale down materials; from hardwood floors to carpeting or granite countertops to vinyl.
While entry-level housing will be available throughout the country, states like Florida and Texas, with lower land and labor costs, may see the largest spending. "Some builders also plan to implement buydowns on mortgage rates," says the magazine, "allowing the buyer to take 2% off their mortgage rate during their first year."
Technology for Construction Industry Updates
John Tocci, fresh out of engineering school, bought an expensive mainframe computer for his multi-generational family general contracting firm in 1983. His father…looked at the bulky item and grumbled, 'When that freaking thing can lay brick, I'll learn how to use it.' –Mark Erlich, Harvard Business Review
Exciting technology is used in most mega-construction companies' projects. But don't feel like the kid looking in the window of the candy store. The reality is small companies and subcontractors are the meat and potatoes of the construction industry.
Most of us can't afford to invest in game-changing technology. Yet. But the future is always beginning now.
Technology that can pay for itself is affordable. Our company is the top provider of U.S. marketing leads for construction industry professionals and suppliers. We can show you ways to develop or improve your business-building strategies, starting today.
To learn about our subscription service, call 800-925-6085 or contact Construction Monitor. (International callers please dial 435-586-1205.)