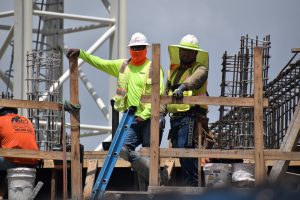 Risk management is key to any industry, especially the construction business. The top construction industry business risks are contractual, environmental, financial, and operational. They can be caused by external factors beyond your control or unanticipated internal factors.
15 Common Construction Business Risks
Construction business hazards can become very real damages. They can impact costs, turnaround times, morale, and reputation. That's why identifying construction business dangers, and, specifically, project risks is the first priority. Good management mitigates risks with preventive measures.
The most common risks are:
Accidents/injuries
Building material shortages
Changes/change orders
Contractual poorly written
Environmental/natural disasters
Equipment/tools damage/theft
Incomplete/difficult-to-understand blueprints
Labor shortages
Material cost increases
Poorly defined scopes of work
Project mismanagement
Safety hazards
Site conditions unanticipated/unknown
Subcontractor disagreements/miscommunications
Supplier issues
Managing the Risks
You've identified the hazards. Now what?
Some managers take a gambler's approach and manage risks based on the odds. That's actually not a bad idea. Rank your identified risks and their business impacts based on high, medium, or low. Then consider the time, cost, and labor required to control the damages.
You can opt to:
Accept the risk – If a risk is low probability and would have minimal impact, you may choose to accept it. Ask your insurance provider which risks will be covered. Ask about options for protecting your company with additional insurance.
Mitigate the risk – You can often avoid, minimize, or eliminate an identified risk by:

Hiring more people
Rejecting the project
Re-negotiating the contract
Renting more equipment

Transfer the risk – If you can't manage internal or external project risk, help the stakeholders determine if:

Another team or even another company would be more able to manage the project concerns.
The stakeholders would be willing to accept all or a portion of the risk.
Safety equipment and technology are tools for construction business risk management. We suggest you ask questions when considering construction project software to learn more about risk mitigation and management.
If you need to know more about construction business development, ask us. Call 435.586.1205 or contact Construction Monitor.