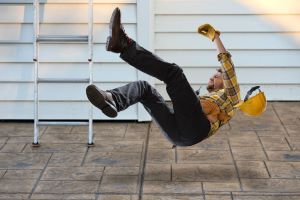 The construction industry accounts for almost half of slips and falls in the workplace. The majority of falls are ground-level but falls from elevations cause the most fatalities. The majority of fatal elevation falls occurred from a fall of more than 30 feet, followed by falls of 10´ or less. Collapsing equipment and falls from openings (hatches, skylights, etc.) accounted for other fatalities.
Non-fatal falls also average 14 away-from-work days for construction workers. That loss of productivity plus unforeseen expenses (worker's comp claims, replacement training) can economically impact a project and reduce morale among co-workers.
Types of Slips and Falls in the Workplace
The types of slips, trips, and falls in the workplace are:
Slip & fall – Usually caused by wet/slippery surfaces
Step & fall – Usually caused by unexpected height changes
Stump & fall – Occurs when objects cause imbalance
Trip & fall – Usually caused by obstructions/impediments
Work-related slips and falls can occur because of poor lighting, visual contrasts between floors as well as actual floor-level height differences, and even unexpected walls, windows, and doors. But the most common causes are:
Cables
Clutter
Flooring traction
Open drawers
Rugs/mats
Spills
Visual obstruction
Weather hazards
Wet/slick surfaces
Reduce Injuries, Fatalities With 24/7/365 Safety Culture
Companies with a proactive safety culture target human health and workplace safety every day. Leadership takes responsibility for driving a safety culture by setting expectations, mandating programs, and respecting protocols.
Conduct environmental assessments at project sites.
Evaluate injury incidents' causes and preventions.
Monitor worker safety compliance.
Encouragement for employees includes reminders:
Don't carry or push things that obstruct your vision.
Make sure you have enough light.
Pay attention to where you are and where you are going.
Take your time.
Use good housekeeping practices.
Contech is "the intersection of construction and technology," says Wiki. We believe Contech is the future of construction safety and injury mitigation.
We also believe our technology can shape the future of your construction business. You're in a competitive environment where timing is everything. Our information is timely and customized, every week, to give you data analytics you want. Just ask us. Contact Construction Monitor.