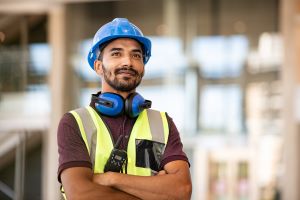 Construction companies have an aging workforce. The newer, younger employee is adamant about workplace changes that encourage personal development and livable wages. Trends are what shape future standard operating procedures. The construction industry is now embracing a trend that's been in practice for quite a while but is relatively new to us.
Upskilling is a workplace trend that facilitates continuous learning
by providing training programs and development opportunities…
–TechTarget
Construction industry upskilling is one of the most valuable ways we'll manage our labor shortage. Forbes likens it to "skating where the puck will be" as opposed to chasing it.
In 2022, ABC (Associated Builders and Contractors, Inc.) invested $1.5 billion in construction workforce education. Even though safety education accounted for 59% of the investment, trade and specialty contracting realized a measurable increase in workforce development.
Technology is another factor that is driving construction companies to develop upskilling programs. As many of our processes become digitized, we must put trained, skilled operators in place to manage these new ways of working.
Construction Industry Upskilling Has Competitive Benefits
A recent study showed workers value upskilling as one of the most important benefits when considering employment choices; they rated it higher than paid vacations. Construction companies pushing to develop upskilling programs should also consider their older workers' priorities: These are the people who will be managing your junior team members.
Construction industry jobseekers rated the importance of upskilling when comparing companies:
74% – Ages 35-44
71% – Ages 25-34
66% – Ages 18-24
61% – Ages 45-54
Four best practices your construction company should consider for promoting an upskilling program are:
Emphasize why – Current employees may be resistant to upskilling development if they don't understand its value to them and the company.
Foster a culture of learning – Leadership should encourage ongoing education, training, and upskilling to prepare for workplace digitization.
Identify skills gaps – Examine immediate and long-term skills requirements that include future plans for technology integration.
Prioritize training – If you don't have internal resources, consider financial/tuition incentives or partnering with qualified educational vendors.
Sharing information is our priority, so continue to check our construction blog for industry updates and information. And to learn why we're the #1 provider of business-building data for construction companies, call 435-586-1205 or contact Construction Monitor.