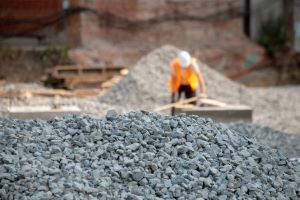 "Construction aggregate" is a somewhat broad characterization of particulates that include crushed stone, gravel, recycled concrete/recycled materials, sand, and slag. Aggregates are the most mined materials in the world. They can add resistance, stability, and volume to erosive materials.
They are just rocks, after all.
–Sara Feuling, AEM Senior Director of Construction
Aggregates:
Are the foundations for bridges, buildings, and interstates
Can be used in water/sewage filtration
Promote drainage
Protect pipes
Provide 80%+ of the mixture for concrete; 90%+ of the mixture for asphalt
Some of the common uses for aggregates by construction companies are:
Buildings – You can't find a commercial or residential property constructed without using aggregates, especially concrete.
Decoration – Crushed stone aggregates are used in flower beds, driveways, and have other decorative uses in exterior wall construction and landscaping.
Engineering projects – Dams, bridges, subways, and tunnels are examples of engineering projects that use high-grade construction aggregates for superior stability and longevity.
Railways – The gravel between train tracks is an aggregate. More important are the aggregates used beneath the track to provide drainage and support the rail load.
Roads – U.S. interstates and highways need to be built to last longer and stronger to accommodate increasing vehicular traffic. Aggregates provide durability and strength to base layers of roadways.
Your company can continue striving to minimize its environmental footprint with recycling. Recycling construction and demolition waste materials can create aggregates to be used in sustainable construction opportunities.
Investment Opportunities Set in Stone
A July 2023 Global Industry Research study stated construction aggregates will see "substantial growth" as an investment opportunity. The paper identified major players in the construction aggregates industry as well as marketing stats and prospects. Construction aggregates may be a solid investment option.*
We have ideas for an investment opportunity too. And this investment will be in your company and your neck of the woods. We provide building permit information that has been sorted into actionable information. You can use our data to find jobs, develop partnerships, or analyze competitors' projects.
Learn more: Contact Construction Monitor.
___
*Consult with your financial advisors/professionals before making any monetary investment decisions.