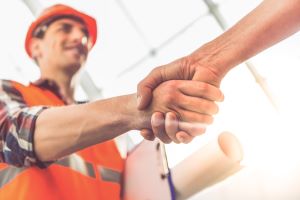 Construction companies have often been difficult to buy and sell because:
Cash flows are volatile, making valuations difficult.
Construction companies are so location-specific it can pose problems for acquisition.
Company culture can be challengingly different between construction companies.
Exiting owners may fear the acquisitional company will jeopardize the company's reputation, legacy, and employee loyalty.
More recently, buying and selling as well as acquisitions and mergers of construction companies have declined due to higher interest rates. Construction companies are nothing if not creative. Business owners are utilizing employee stock ownership plans (ESOPs) as another way to receive liquidity for ownership interests, says Marcum Accountants & Associates.
An ESOP is a retirement plan that, like a profit-sharing plan, allows employee participants to share in the company's success. …Shares of stock are allocated to the company's employees over time; as employees accumulate seniority, they become increasingly vested in their ESOP account. -Franco Silva, Prairie Capital Advisors, Inc.
Construction Companies and Ownership Transition
Silva cites five reasons an ESOP is a good ownership-transition strategy for contractors:
Attract/retain talent – A recent survey found that employee-owned construction companies anticipate ESOPs can increase employee growth and retention, even in a difficult labor market.
Brand protection – A contracting company can continue its reputation of quality of workmanship and business ethics while transitioning ownership to employees in a tax-advantaged way.
Culture continuation – ESOPs increase employees' commitment to the company and foster an ownership culture. This can benefit the company's valuation and incentivize employees to explore increasing personal wealth.
Legacy preservation – An ESOP means a family company can remain in the hands of those who helped to build it.
Multi-shareholder liquidity – An ESOP can be structured to provide partial liquidity to one or more shareholders. It's especially advantageous when one owner wants to liquidize, but others wish to retain control.
If you're a community developer, awareness is critical to business growth. Knowing what your competitors are doing – where and when – is key to many construction companies' marketing strategies. Top Company Reports provides that information and more.